Omron Hem 7120 Fully Automatic Blood Pressure Monitor Review
August 7, 2020 
September 17, 2020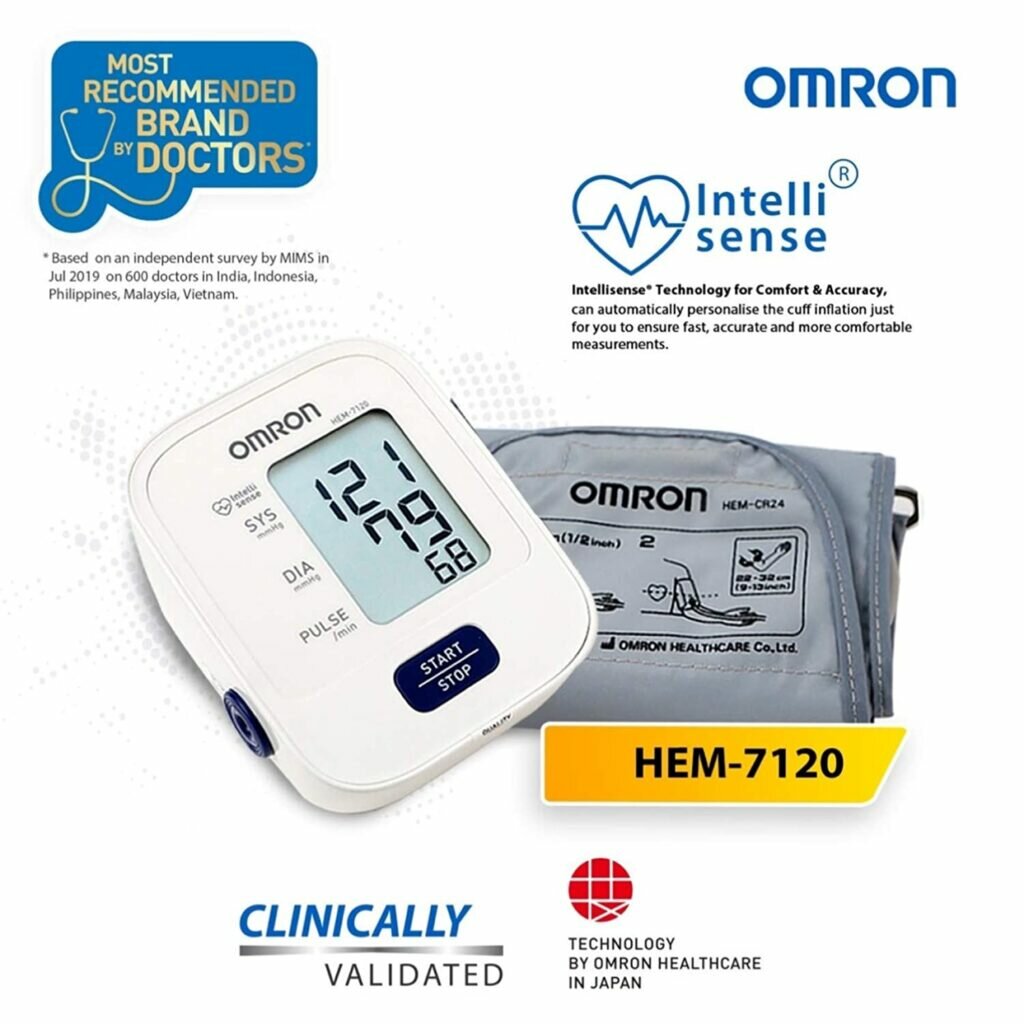 The OMRON blood pressure monitor HEM-7120 is a compact, fully automatic blood pressure monitor, operating on the Oscillometric principle for precise measurements and accurate results. It measures your blood pressure and pulse rate with easy one-touch operation.
Cuff Size: Fits Arm Circumference (22-32Cm), The device uses its advanced "IntelliSense" technology for comfortable controlled inflation without the need for pressure pre-setting or re-inflation, even a slight pressure change can be detected, resulting in the most accurate measurement.
Along with Blood Pressure Monitoring, this product detects irregular heartbeat. It is loaded with a Body Movement indicator and blinks if your systolic or diastolic pressure is outside the standard range (above 135 systolic/85 diastolic mmHg)
OMRON blood pressure monitor HEM-7120 comes with 5 Years Warranty and lifetime support provided by Omron. This Digital Blood Pressure Monitor is guaranteed to meet your standards.
This product is mainly designed for general household use. Please read the Important Safety Information in the instruction manual before using the unit.
Measurement Tips- 1) Wrapping the cuff properly is necessary for an accurate reading 2) Measure at the same time of the day (within 1 hour after getting-up and before bed-time is recommended) 3) Sit in a chair, straighten your back, and be relaxed.
Below is the Omron hem 7120 review.
Omron hem 7120 reviews:-
INSIDE BOX:-

1. Omron blood pressure Monitor – 1
2. 4xAA Battery pack – 1
3. Medium Cuff, 22 to 32 cm arm circumference
4. Instruction manual & Warranty card
(No AC adapter provided. it needs to be purchased separately)


PROS

1. Good quality product.
2. Easy to use.
3. Bigger text display. A big thing for elderly people.
4. Systolic & Diastolic pressure measurement with heart rate sensing.
5. Fairly accurate BP readings with max +/- 5 to 10 variation compared to analogue monitor.
6. Fairly accurate heart rate readings.
7. Last reading memory. To access, press and hold start button for 5 secs.
8. Used & recommended by some doctors even.
9. Cuff wrap have printed guide for its usage, min-max marks, arrow indicator etc.
10. Good battery backup, which lasts for months (depends entirely on your usage pattern though).
11. Omron Connect app to save readings and visualize them.

CONS :-
1. Screen has soft plastic,it's not so hard.
2. There is no direct link b/w device and Omron connect app. You need to scan reading on display using app. Its OCR then converts and adds it to daily data.
3. AC adapter not included and is optional to purchase. Though battery works well for months. But still it would be a nice add-on.
▶ So far it does its job well. Cons are neither big enough nor directly affecting the primary task. So owing to its price bracket, its a 5 star device.

FEATURES

1. Pulse rate and BP monitoring using Oscilloscope.
2. Body Movement and Hypertension indicator
3. Irregular heartbeat detection
4. Last reading memory
5. One touch operation
6. Low battery indicator
7. Support for AC adapter


USAGE GUIDE :-
1. Remove battery cover and install batteries with correct polarity.
2. Insert air plug of cuff into air jack of device.
3. Put cuff loop along arm as per markings on cuff with lower edge 1-2 cm from elbow.
4. Close the cuff fabric fastener firmly.
5. Press start button on device.
6. Wait till it inflates and deflates cuff and all three reading are displayed.
7. If any error is displayed, refer user manual for possible cause as per error code chart.
HOW TO TAKE READINGS
Readings vary with many factors and then people complain with inaccuracy in readings. These are minor things but overall they create deviations in reading and sometimes by large margins.
1. Cuff should be applied on same hand everyday with its lower end approx. 1-2cm above elbow.
2. When applied, cuff and heart should be approx. on same level.
3. Use same arm for reading every day.
3. Body must be relaxed while it's working.
4. Use same chair or location for reading every day.
5. Time of reading should be same everyday
6. Bathing, alcohol or caffeine consumption, smoking, exercising, eating should be avoided for at least 30 min before taking reading.
7. Cuff should be closed firmly, neither too tight nor too loose.

WARRANTY (Valid for full 5 years against your Amazon provided bill) :-
Many users commented on warranty issue that its 5 year extension is not applicable since invoice or warranty card is not stamped and signed.
Websites warranty terms & conditions also say "The OMRON products shall have a 'carry-in warranty'. The customer's copy of the warranty card (Sign & Stamped) along with the INVOICE must be kept by customer in ORIGINAL for Warranty support service "
So to clear it out I got in touch with Omron support with bill copy provided by Amazon and they assured for 5 years extended warranty against bill/invoice from Amazon. Pdf bills are also digitally signed and have green tick on top left corner for that.
▶ Omron Support: "Your machine is eligible for 5 year warranty. Kindly keep this Bill Invoice with you for future reference."

FINAL VERDICT:-
This one's very basic model but more than sufficient for the quoted task of BP monitoring. It does its job well without having gimmicky features. Those features are handy but not necessary for core functionality.
You can very well go for this model and be assured with its performance. For rest there's 5 years warranty.
▶ If you can extend you budget you can get other higher end models in series, but note that those have same core functionality with extra features like clock, last 60 memory, Bluetooth connectivity, cuff wrapping guide light, blood pressure level indicator etc.
▶ If your cuff size goes beyond 22 to 32 cm arm circumference, then do get higher end models like Omron 7270 which have large cuff wrap. As getting good quality spare large cuff wrap will be a costly affair and extra hassle too.
Please Note:- Regular monitoring is different but always consult doctor in case of any doubt and do not self-diagnose the results. Its home based monitoring device & not meant for professional usage (as mentioned by Omron in manual).
Buy Now On Amazon>>>
Also Read:-
Top 10 Best Mixer Grinder Under 2000 In India 2020